Taking place between 16th – 18th August, the ArcTanGent Festival returns this year, bigger and better, with a further 21 acts added to their already stellar line-up.
Although limited to a capacity of 5000 people, this is one of the festivals that guaranteed will not disappoint connoisseurs of Math-Rock, Post-Rock, Noise-Rock and everything in between! With previous acts including the likes of Russian Circles, LITE, Cult of Luna, MONO and returning bands such as one of this year's headliners, And So I Watch You From Afar,  ArcTanGent are filling their stages with a carefully selected variety of only the best acts of the genres they're representing.
Having announced this year's headliners in early February and March respectively, And So I Watch You From Afar, GlassJaw and Shellac will be joined on stage by another twenty one fantastic acts, including Japan's own Mouse on the Keys, Plini, Coldbones, Death and the Penguin, møl, Natalie Evans, Only Echoes Remain and a special collaboration between Pijn and the Conjurer that they've named 'Curse these Metal Hands'. Below is the full list of their latest wave of acts:
Mouse on the Keys / Plini / Tides of Man / OHHMS / Poly-Math / Jean Jean / Pijn & Conjurer: Curse These Metal Hands / Conjurer / Blueneck / Boss Keloid / møl / Orchards / Halo Tora / Bad Sign / Natalie Evans / Death and the Penguin / Coldbones / Black Futures / Seven Colour Drive / Codices / Only Echoes Remain
Of course, the above will also be joining the rest of the previously announced acts, which includes La Dispute, Black Peaks, math-rock pioneers on their first ever European show – GIRAFFES? GIRAFFES! and Rolo Tomassi to name a few. Full list of bands for you below: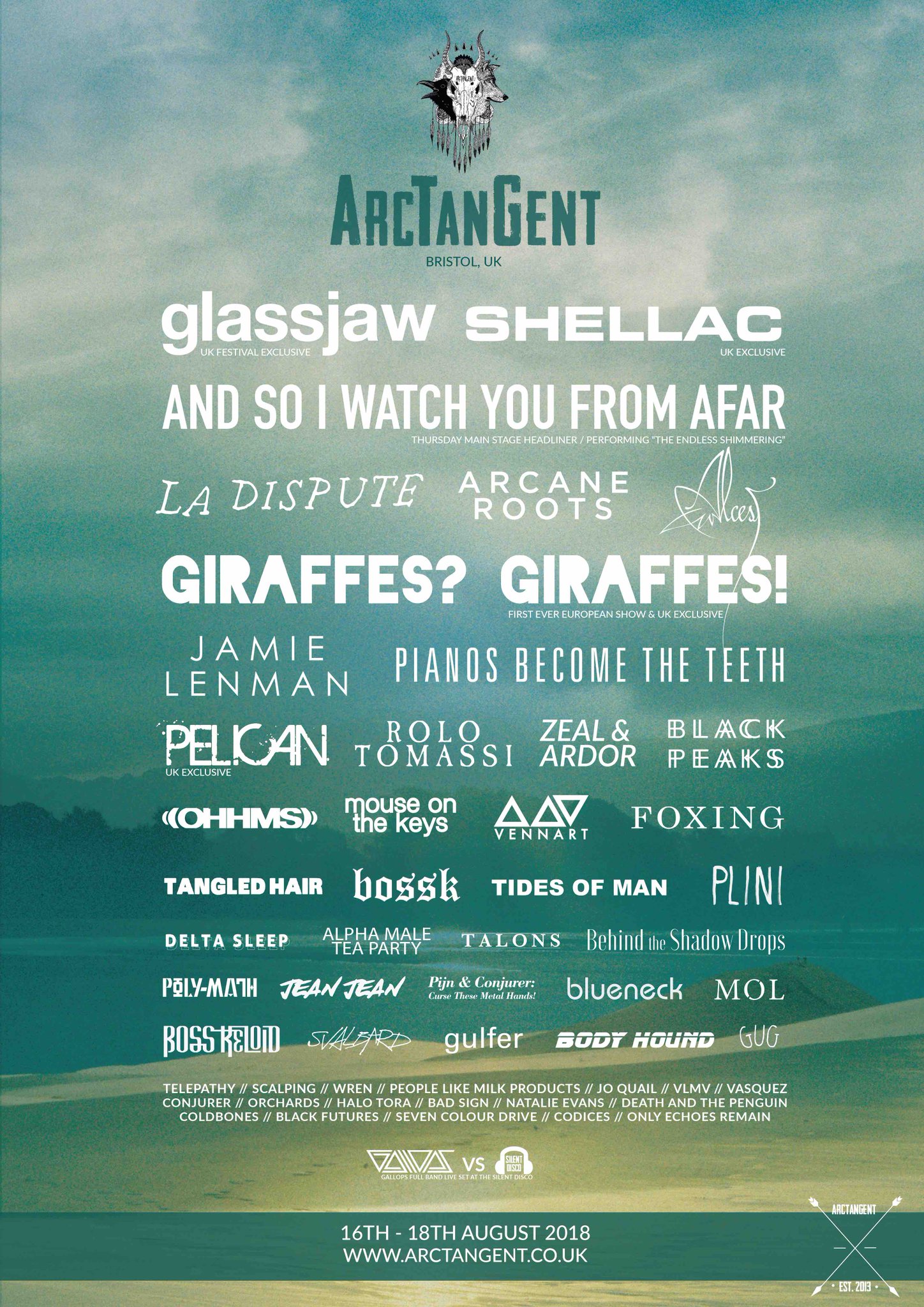 ArcTanGent Festival takes place at Fernhill Farm, just outside of Bristol and tickets are on sale now, so if you want to be one of the lucky 5000, make sure to get yours quick here.