With tickets having gone on sale over a month ago, the colourful Beautiful Days Festival has finally announced this year's headliners, and it absolutely does not disappoint!
Returning to Escot Park, in Devon, between the 17th and 19th August, Beautiful Days promises a riot of color as its Sunday theme, encouraging people to 'be bold, be bright-wear every colour of the rainbow'! Not only this, but the line-up is one to make it a must-see on your list of festivals this summer.

Headlining the main stage are Manic Street Preachers on the Saturday and festival founders – the Levellers, who will be closing the weekend, as well as other acts such as Shed Seven, Gogol Bordello, The Wildhearts, Dreadzone, The Ska Vengers, A Tribe Called Red, The Spitfires, Ducking Punches and there for the first time, indie rock band, Feeder. Suzanne Vega, Calexico and folk legend, Richard Thompson Electric Trio are headlining the Big Top Stage, and will also be joined by Rising Appalachia, Les Negresses Vertes, Oysterband, 3 Daft Monkeys and North London siblings, Kitty, Daisy & Lewis.
The Little Bit Top is host to an amazing variety including Jazzie B, Sian Evans, The Undercover Hippie, Big Fish Little Fish, Macky Gee & IC3 and DJ Shineybeast , while the Theatre tent presents John Farnworth's 'Football Magic, 'Stupid Stunt Show' with Dan the Hat, Spitz & Co and irish poet, Stephen James Smith. What is more, the Band Stand welcomes the 2018 Fancy Dress Competition, Open Mic Sessions, The United Stoats of America, Jake and the Jellyfish, The Cravats, 40 Shillings on the Drum and many, many more. Have a look at the full line-up below: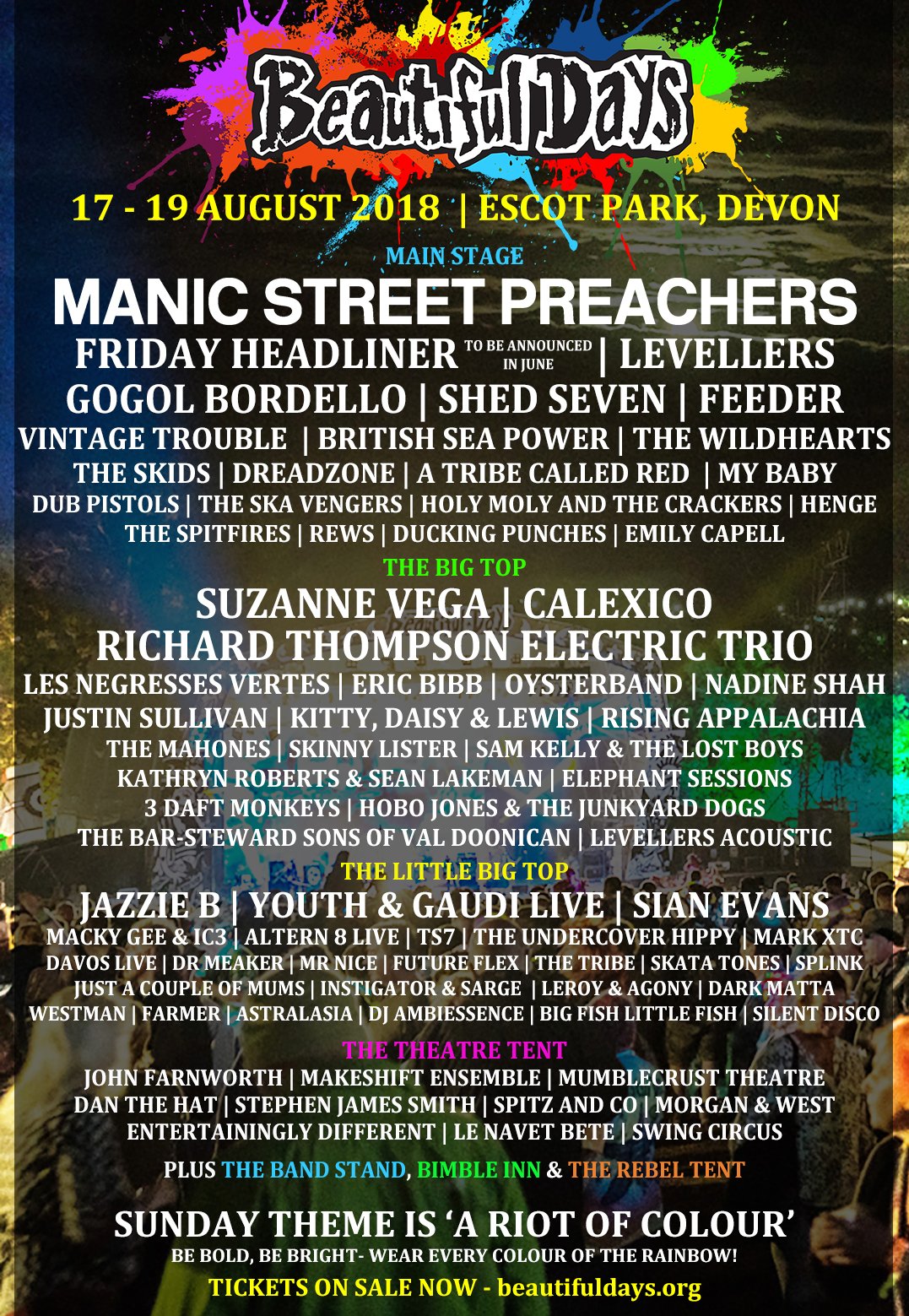 However, there still is more to come with the Friday Main Stage headliner expected to be announced in June, as well as line-ups for The Bimble and The Rebel tent and more stand up comedy acts to be revealed for the Theatre tent.
Undoubtedly, this is a festival you don't want to miss, so make you to get your tickets on the link below:
http://www.beautifuldays.org/tickets/